View News For
2020-2021 News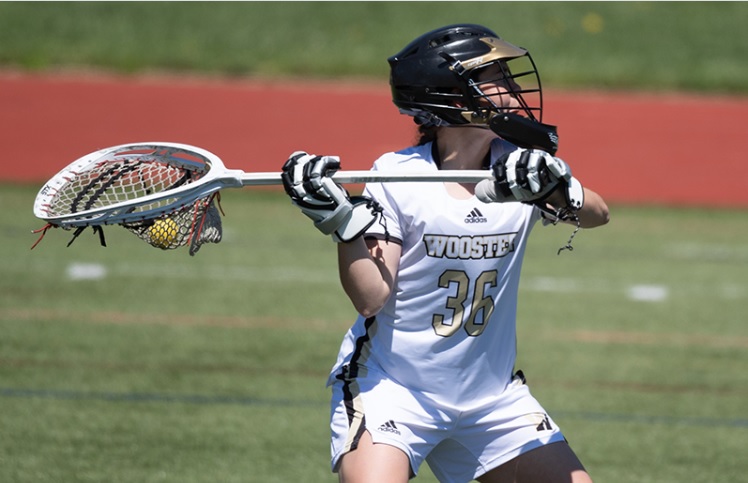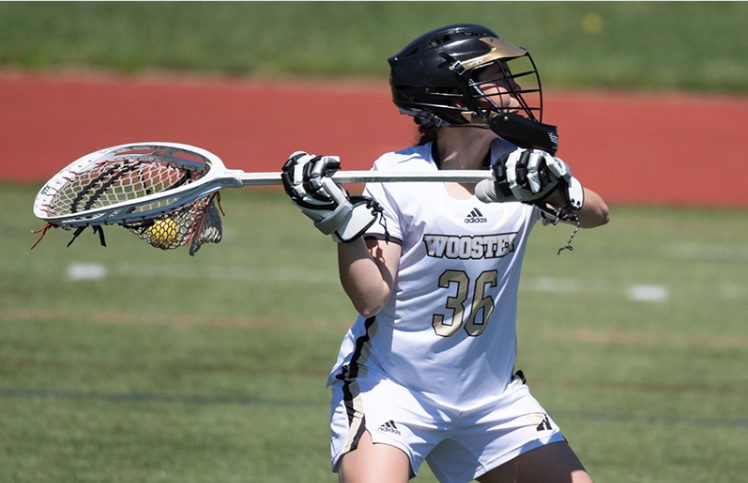 Senior goalkeeper for the College of Wooster and former North Allegheny field hockey and lacrosse standout, Katie Shideler, was voted North Coast Athletic Conference Defensive Player of the Year.
Shideler, Wooster's first NCAC Defensive Player of the Year since W Association Hall of Famer Nicole Pritchard in 2004, currently leads the NCAC in save percentage (52.6) and saves (113) this spring. The mathematics and physics major currently ranks in the top-25 nationally in save percentage, and she entered the week 30th in Div. III in saves. Shideler logged six double-digit save performances on the year, three of which came in NCAC divisional play. She was the NCAC Athlete of the Week following Wooster's two wins against Kenyon College, during which the four-year starter made a combined 27 stops. Shideler's now a two-time all-conference selection.
Shideler surpassed 400 career saves on Saturday. Shideler's the sixth Scot all-time with over 400 career saves, and the first since alumna Shawna Ferris (2010-13).
(Information and photo courtesy The College of Wooster.)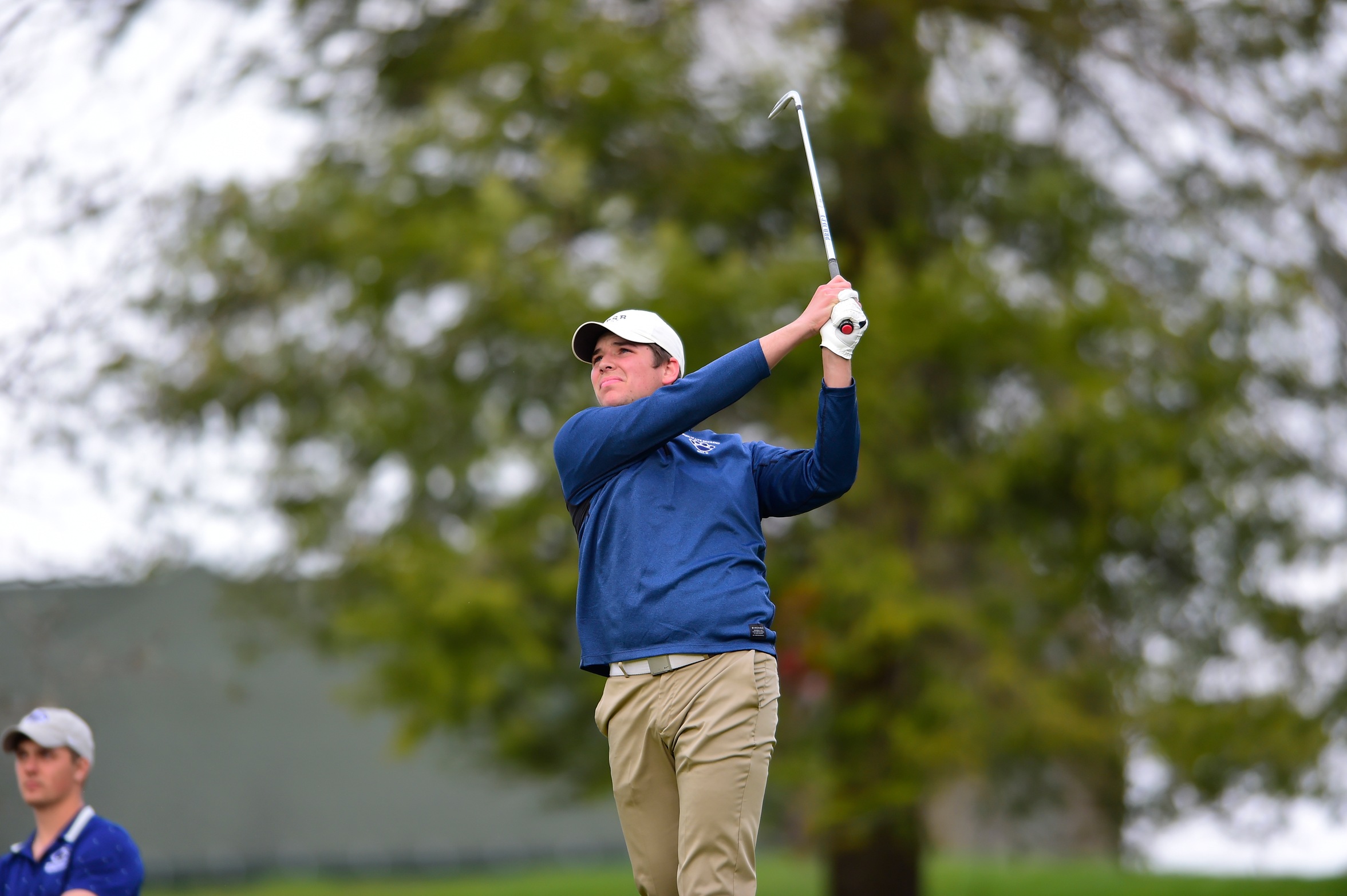 ERIE, Pa. – Penn State Behrend sophomore Ryan Meyer (Sewickley, PA/North Allegheny) has been named the 2020 Co-Allegheny Mountain Collegiate Conference (AMCC) Golfer of the Year and was also named to the All-AMCC First Team, announced on Tuesday.
Meyer is the sixth golfer in program history to be named AMCC Golfer of the Year. Meyer, the 2019 Newcomer of the Year, was the AMCC Individual Medalist at this year's championship with a two-day total of 149 (75-74). He carded the two lowest scores at the championships to help his conference-leading average of 78.33 for six rounds this season. Meyer finished in the Top 5 in four rounds and Top 10 in all six.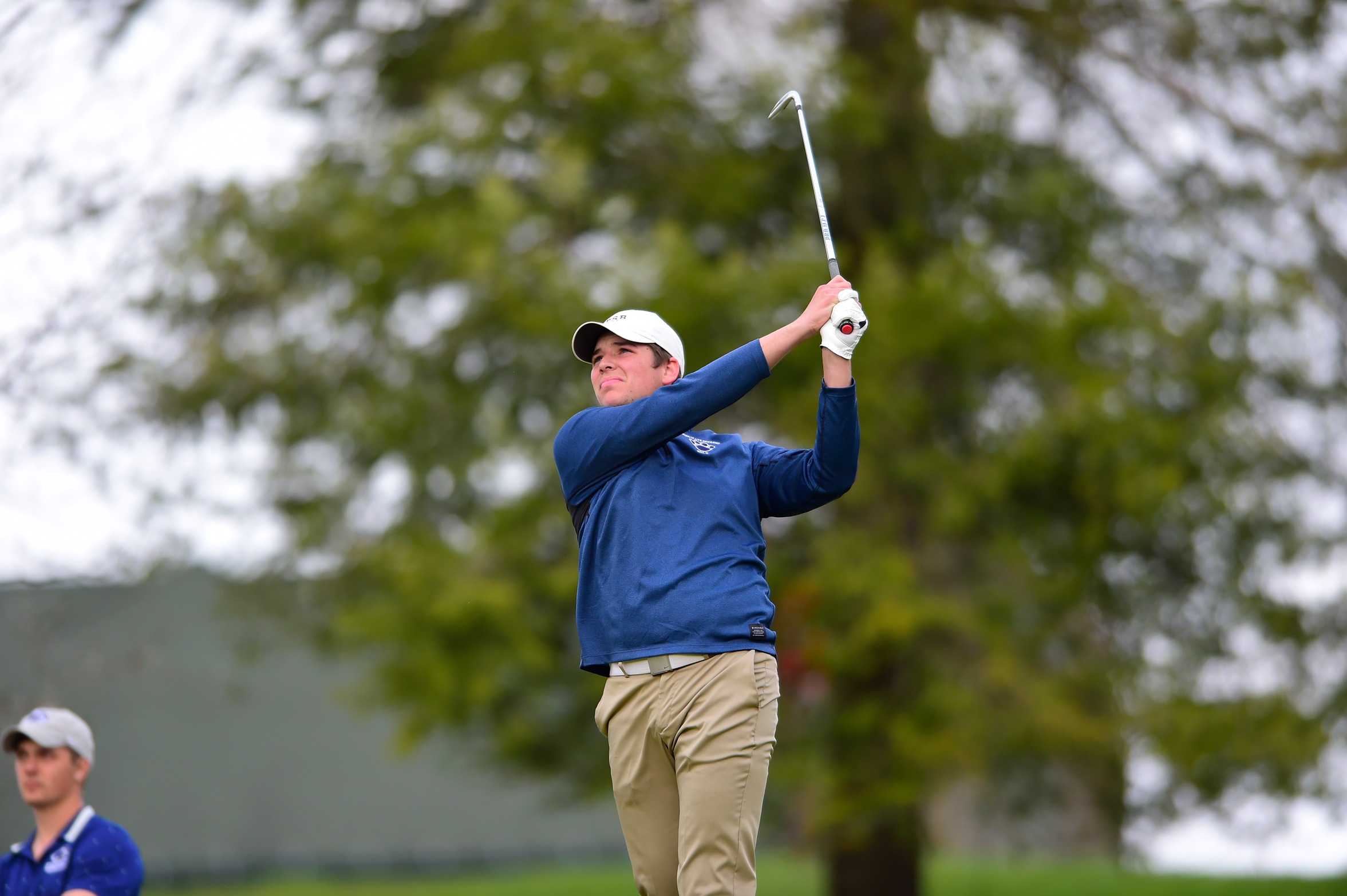 ERIE, Pa. – Penn State Behrend sophomore Ryan Meyer (Sewickley, PA/North Allegheny) has been named the Allegheny Mountain Collegiate Conference (AMCC) Golfer of the Week, announced on Tuesday.
Meyer led the Behrend Lions to their 10th AMCC Championship on Monday. He was also the individual AMCC Champion with a two-day score of 149 to finish first out of 33 golfers. Meyer carded a 75 on day one and then fired a season-low 74 to stay on top of the leaderboard.
Meyer currently leads the AMCC with a 77.80 average after five rounds. The Lions will compete at the Mt. Aloysius Invitational on Saturday, April 24 before heading to the NCAA Tournament on May 11-12.
(Photo and press release courtesy of Penn State Behrend Athletics.)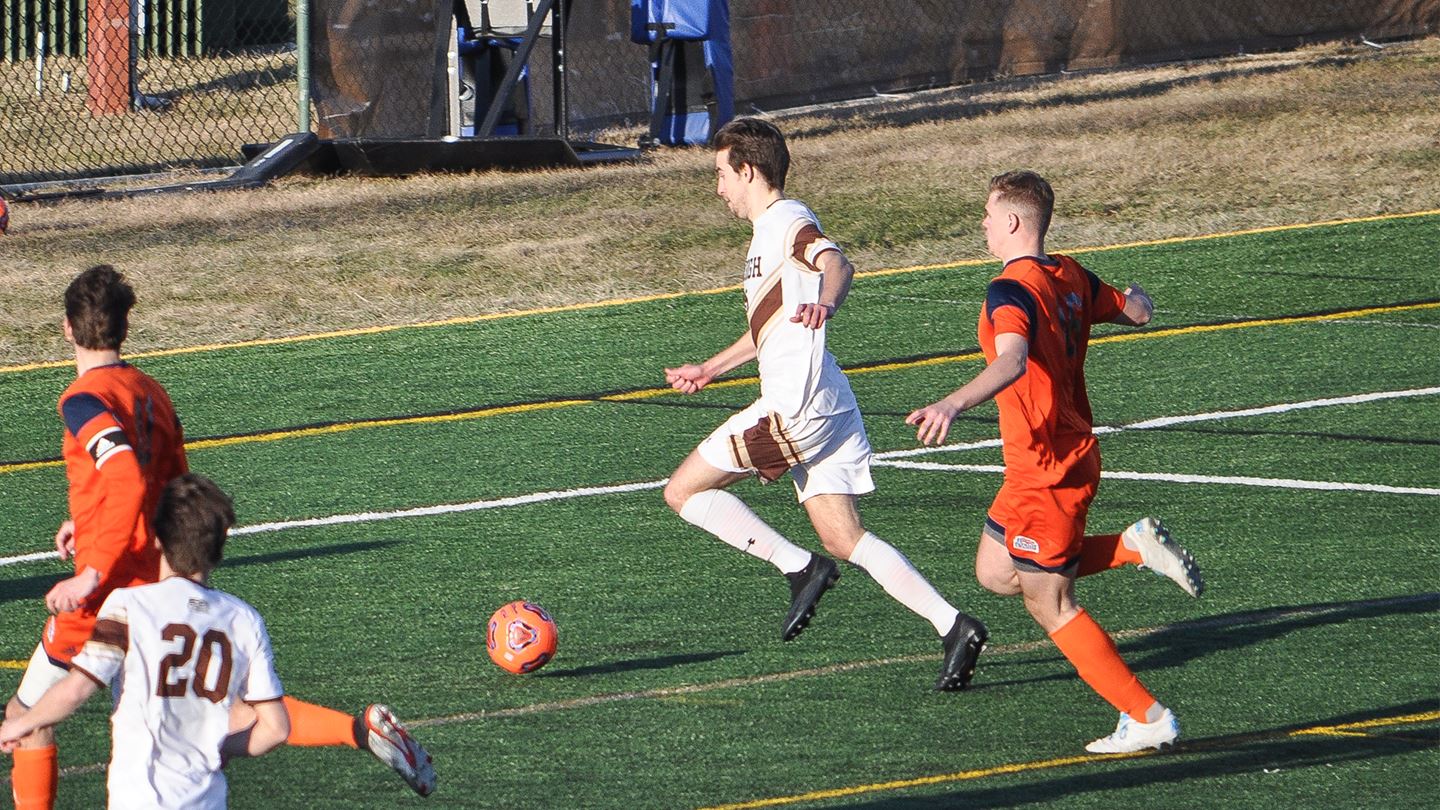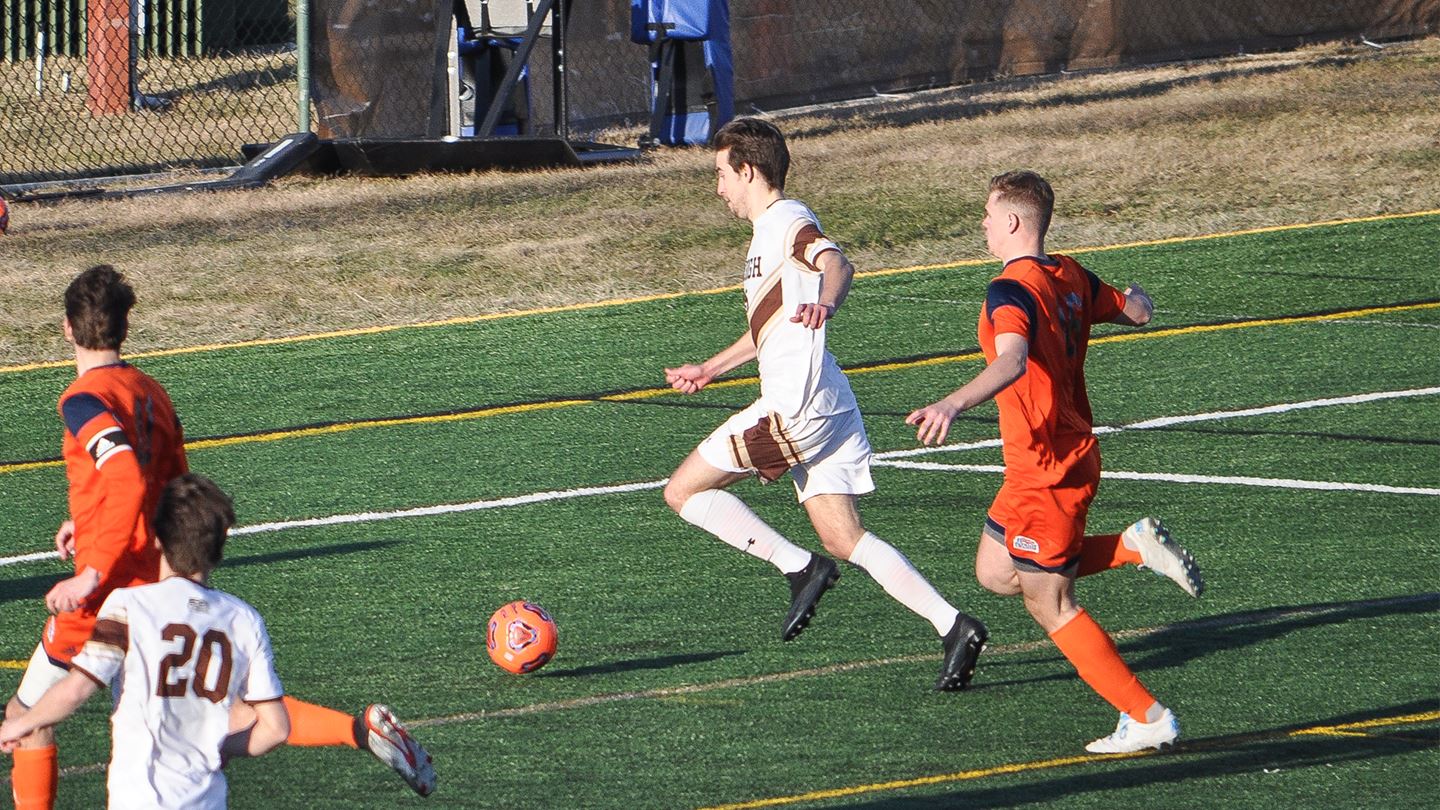 BETHLEHEM, Pa. – For the fifth time in his career, junior forward Josh Luchini has been named Patriot League Offensive Player of the Week, announced Tuesday morning by the league office. In addition, he was also named to Top Drawer Soccer's National Team of the Week. Luchini is a former standout soccer player from North Allegheny High School.
Luchini, who made his spring debut on Saturday against Bucknell, scored a goal on all three shots he took for his second career hat trick to lead the Mountain Hawks to a 4-1 victory over the Bison at the Ulrich Sports Complex.
Named a Third Team All-American and Patriot League Offensive Player of the Year in 2019, Luchini was playing in his first game since taking on Pitt in the first round of the NCAA Tournament back in November 2019.
Through 41 career games with Lehigh, he has accumulated 20 career goals and 46 career points. His first game-winning goal of the season also happens to be the 10th of his career as he's led the Patriot League in that category each of the last two seasons.
Luchini was named to the prestigious MAC Hermann Trophy Watch List prior to the beginning of the season.
(Photo and press release courtesy of Lehigh University.)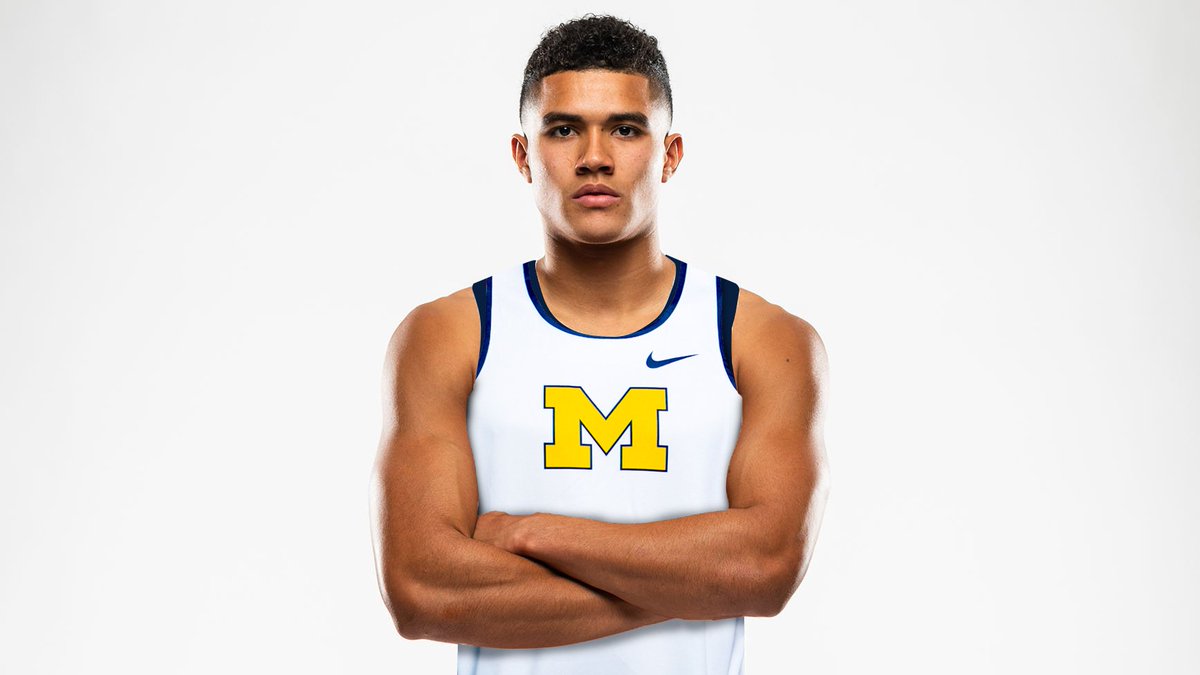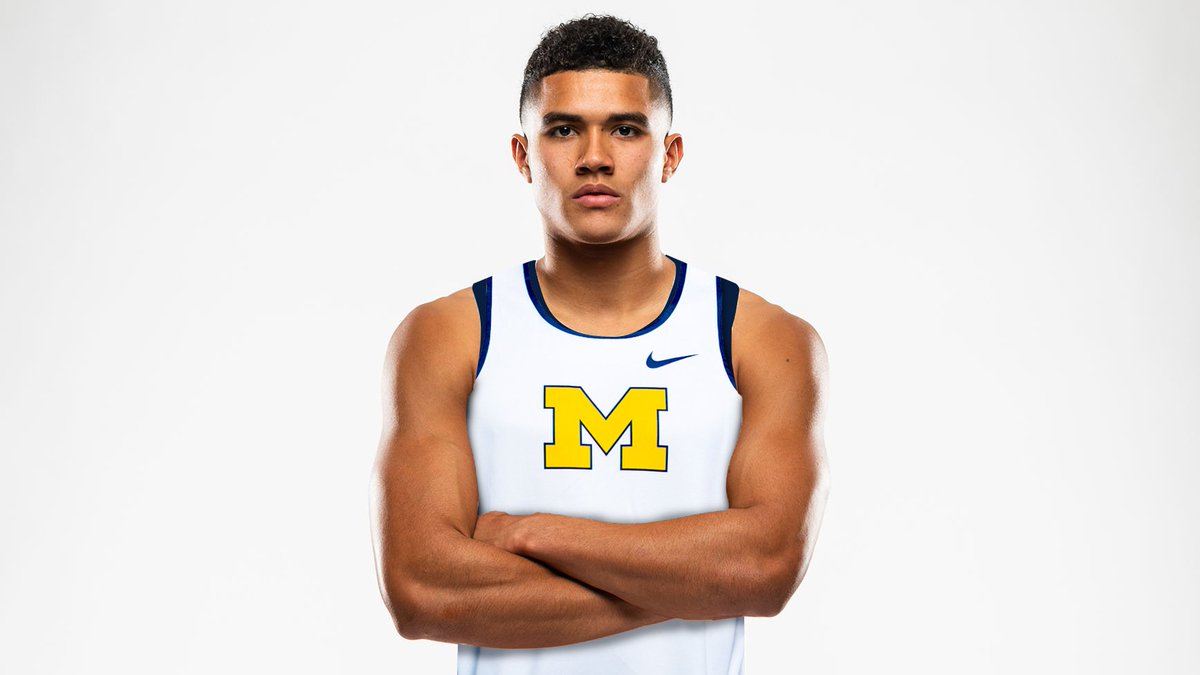 FAYETTEVILLE, Ark. — University of Michigan men's track and field history was written in real time throughout the second day of the NCAA Indoor Championships on Friday (March 12).
Heptathlete Ayden Owens, and former North Allegheny standout, rushed the school record in a third-place finish. Owens eclipsed Steven Bastien's four-year-old heptathlon standard by 152 points and tied for the No. 25 spot on the all-time collegiate list with a masterful 5,995-point effort over the course of seven events, good enough to net him six team points for the Wolverines.
Just as he did on day one, Owens set the pace for the entire field in the opening sprint event, this time clocking a season-best-tying 7.87 seconds in the 60-meter hurdles for the top time and a significant 1,015-point haul. Only one other athlete earned a higher single-event point total throughout the entire competition.
Additionally, when paired with his 7.84 from the 2019 NCAA Indoor Championships during his days at Southern California, Owens became just the third man in meet history to run faster than 7.90 in the heptathlon 60-meter hurdles in two different years.
Just surviving the 60-meter hurdles intact was an accomplishment. Two other men, including title contender Leo Neugebauer of Texas, did not finish the race and a third finished in 10 seconds to effectively end their hopes of a top finish.
The extremely technical penultimate pole vault competition similarly has a way of weeding out would-be contenders, but Owens, too, passed this test with flying colors. After entering at a bar well below his best to ensure he put points on the board, he worked his way up to a first-attempt make at a career-best-tying 4.56m (14-11.5) to net himself 778 points.
Fittingly, he closed out the effort with a fourth career-best performance. With only five laps standing between Owens and both national glory and school history, he slashed nearly seven seconds off his personal best to clock 2:40.07. He went out hard early and established himself in the top four.
By the time the bell rang for 200 meters to go, Owens had moved up to second and closed out with the fastest lap of anyone in the field at 30.20 seconds.
His overall seven-event performance to take third in the standings marked the best finish by a U-M competitor in the event, supplanting Bastien's eighth-place finishes from 2015 and 2016.
#NCAATF Championships | Heptathlon

Ayden Owens @Ayden_Owens OBLITERATES the school record with a 5,995-point score to finish THIRD overall!

Ayden is a First-Team All-American!#GoBlue pic.twitter.com/fkxZdoNmS0

— Michigan Track & Field / Cross Country (@UMichTrack) March 12, 2021
(Photo and press release courtesy of University of Michigan Athletics.)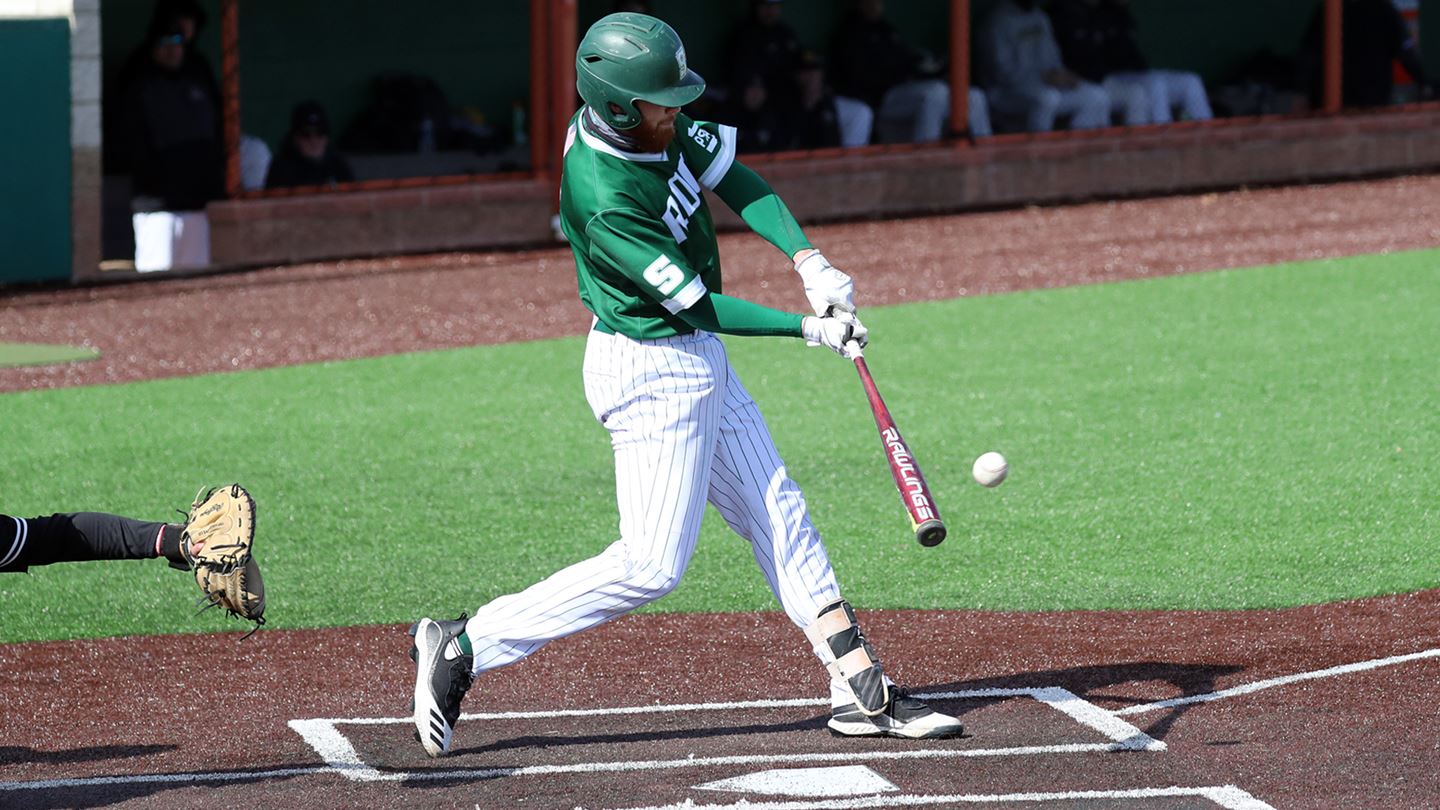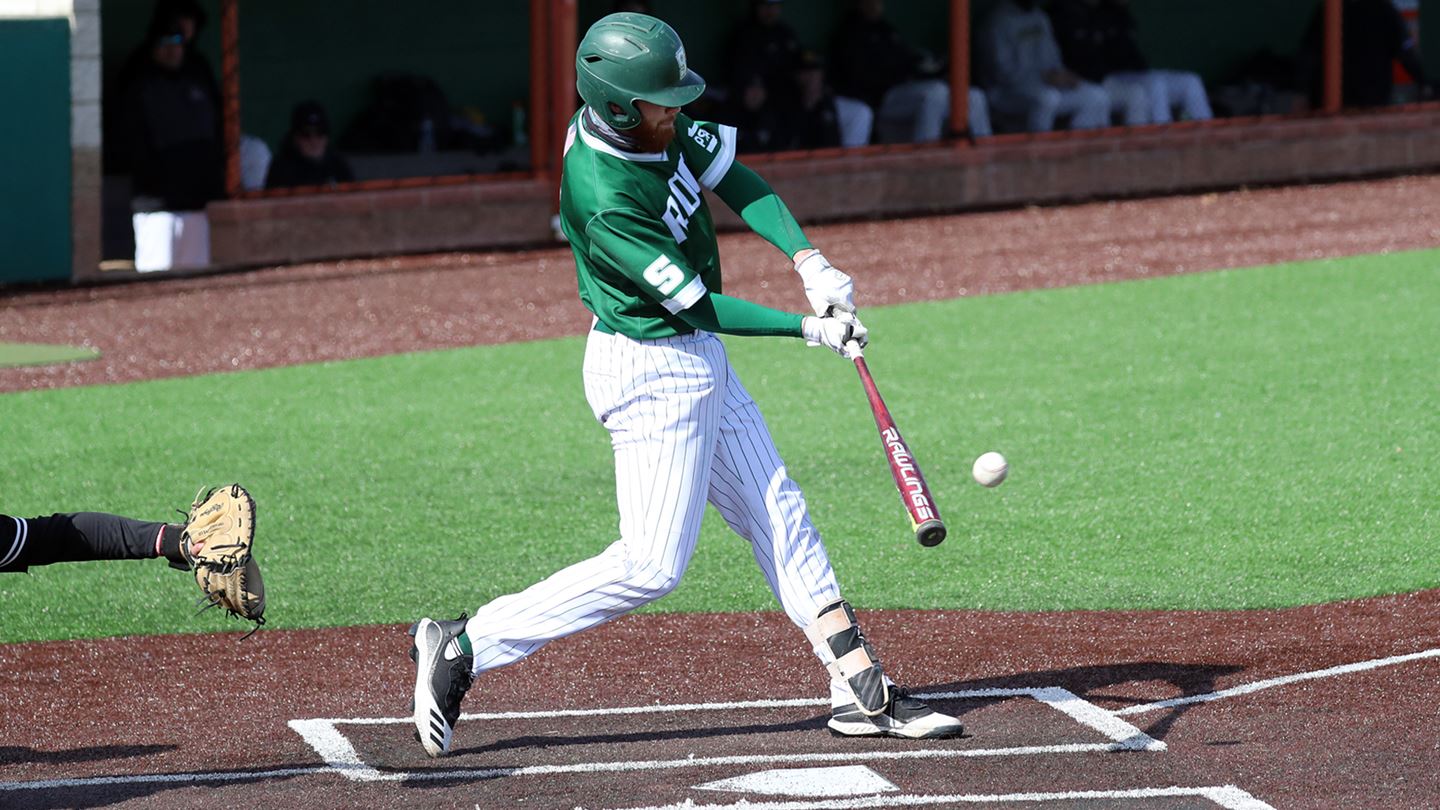 LOCK HAVEN, Pa. – Slippery Rock University first baseman, and former North Allegheny standout, Colin Cain was named the Pennsylvania State Athletic Conference Western Division Athlete of the Week, the league office announced Monday.
Cain earned the first PSAC West Athlete of the Week honor of his career by helping The Rock take two of three games from West Virginia State University in what was the first games of the 2021 season for SRU.
After being forced to miss the 2020 season due to injury, Cain, a former All-PSAC West selection, made his return to collegiate competition last week following a 670 day break between games.
In two games against the Yellow Jackets, Cain hit .571 (4-for-7) with four runs scored, one home run and four RBI while slugging 1.429 and posting a .625 on-base percentage. All four of Cain's hits were of the extra base variety as he belted three doubles in addition to his home run.
After sitting out The Rock's first game of the season, Cain came on in game two to hit two doubles while scoring two runs in an 8-5 win. He closed out the week by going 2-for-3 with two runs, four RBI and one home run during Slippery Rock's 12-4 victory against West Virginia State.
(Press release and photo courtesy of Slippery Rock University Athletics)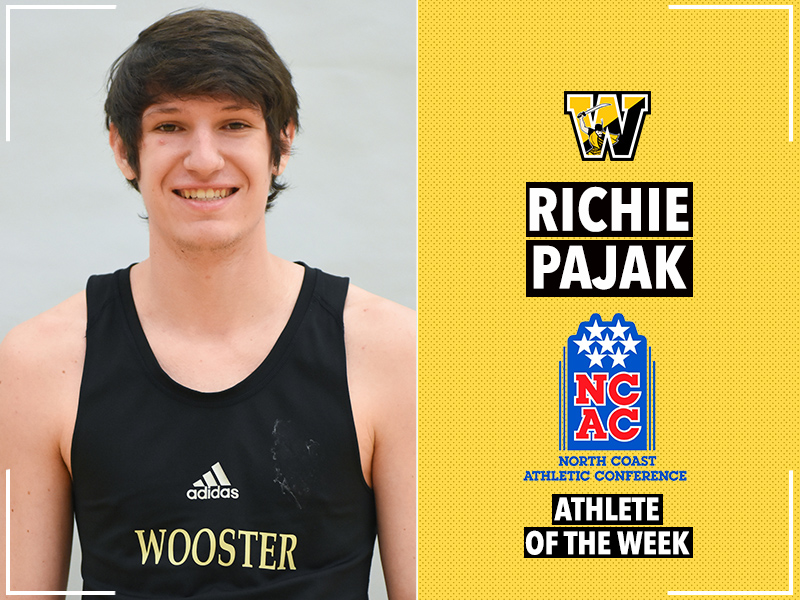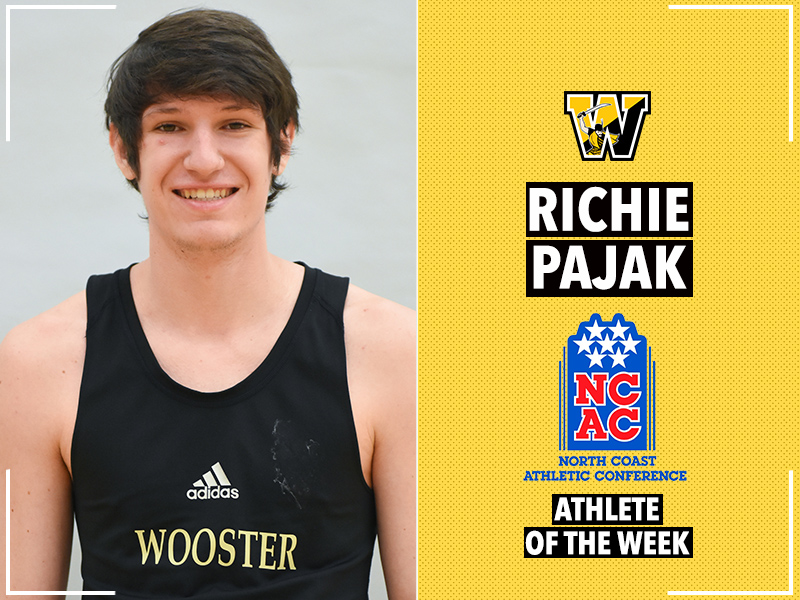 Richie Pajak, a junior at The College of Wooster and former North Allegheny track and field athlete, earned the North Coast Athletic Conference's Athlete of the Week award for men's field events, as announced by the league office on Monday afternoon.
Pajak was backed by a pair of first-place finishes during Friday's season lid-lifter. He cleared 6 feet to win the high jump in Friday's dual meet against Wittenberg University, and he's currently ranked second within the NCAC in the event. Of note, Pajak's high jump was just two inches off his collegiate best mark, which came at the 2019 NCAC Indoor Track & Field Championships.
The computer science major, who was unopposed in the triple jump, measured out at 37 feet, 11.5 inches.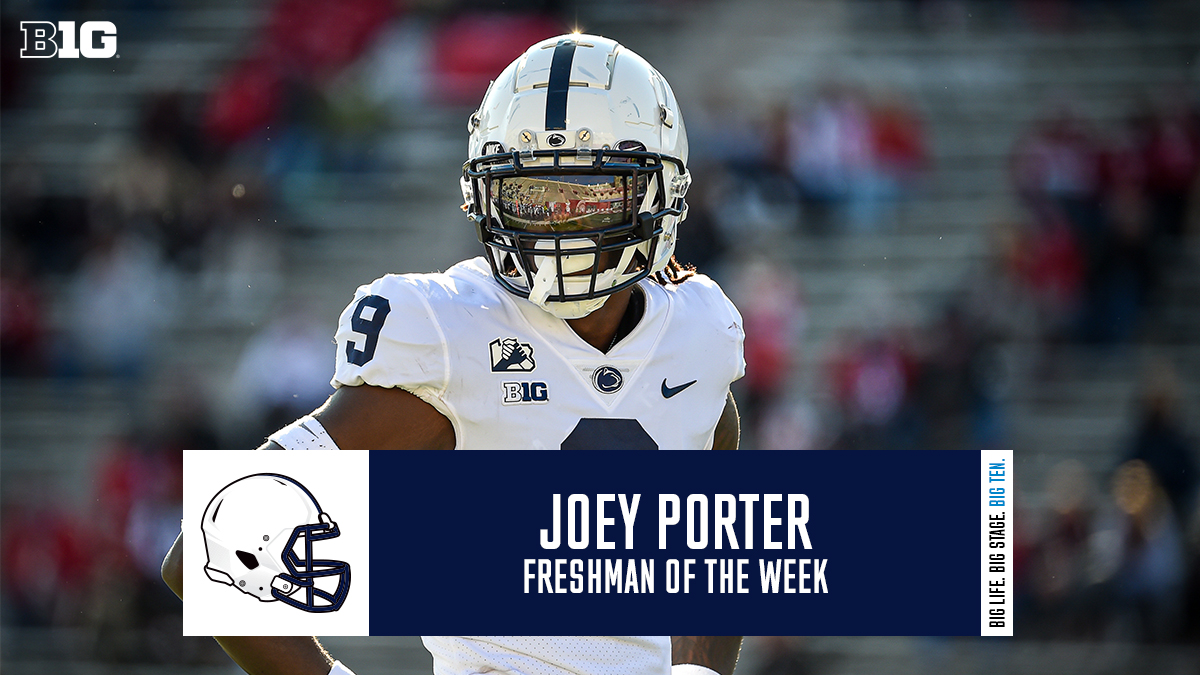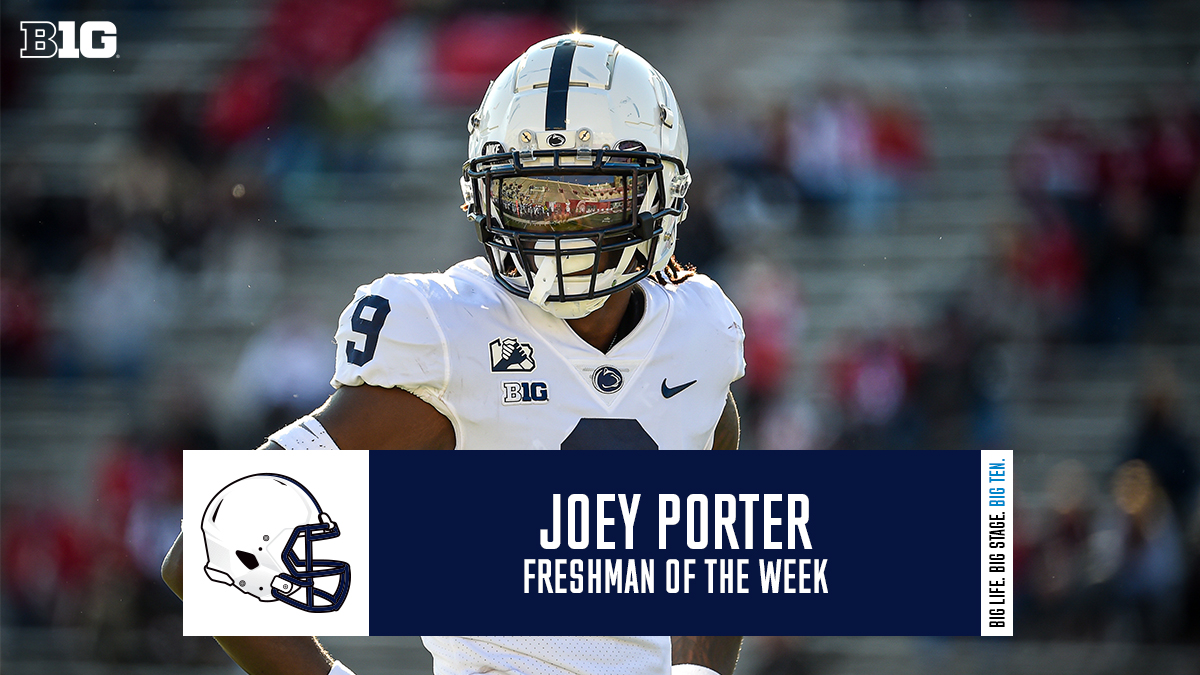 Former North Allegheny standout, Joey Porter Jr., was named the Big 10 Freshman of the Week on Monday. Porter, tallied a career-high seven tackles, including five solo stops, in Penn State's 23-7 win at Rutgers on Saturday. He matched a career best with an unassisted tackle for loss as Penn State held Rutgers to a season-low in points and recorded the program's 900th all-time win. Porter's previous career high was five tackles, set in each of the past three games.
In high school, Porter was one of the top corners in the WPIAL and provided blanket coverage for North Allegheny in 2017 and 2018. At the conclusion of his senior year at NA, Porter was selected to the Trib 25 All-Star Team, the Pittsburgh Post-Gazette's Fabulous 22, and was a first-team all-conference pick by the Big 56 Conference, among other accolades.
(Information and photo courtesy of Big 10 Conference.)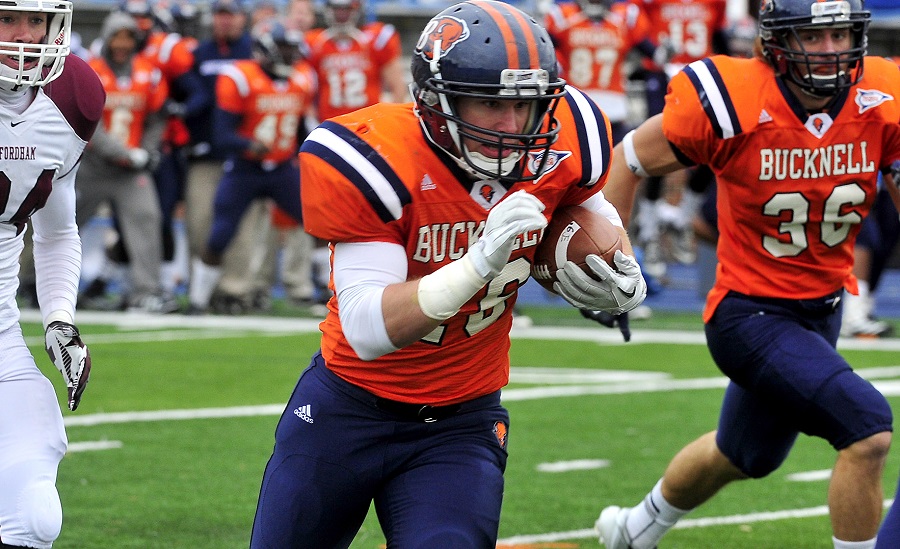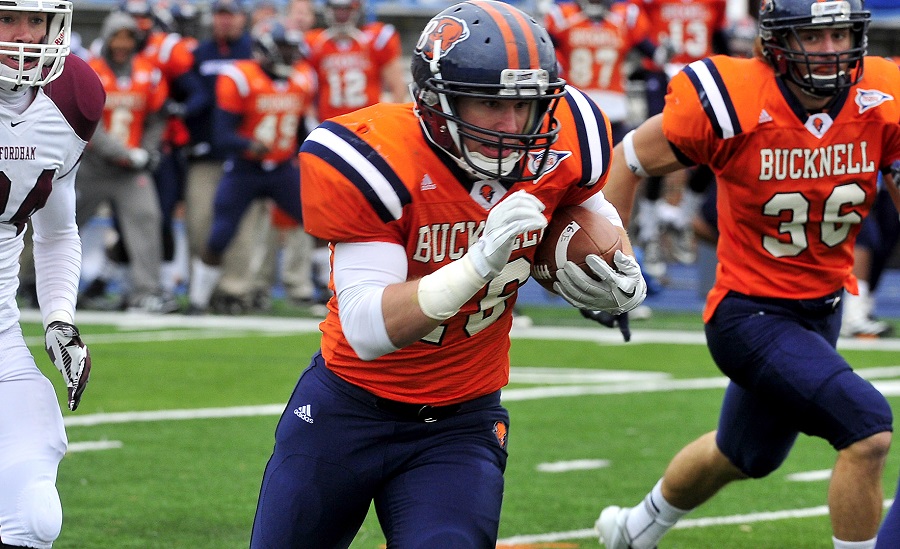 Former North Allegheny football standout, Matt Steinbeck, was recently selected to the Bucknell University All-Decade Team for the 2010s. The all-decade team was chosen by Bison Nation through fan polls on BucknellBison.com.
Steinbeck was a defensive back at Bucknell from 2011-2014 and ranks seventh in school history in career interceptions with 11. He also ranks second in program history in career interception yards (222) and third in single-season interception return yards (158 in 2012). All of this despite missing his senior season due to injury.
Among other accolades accrued by Steinbeck at Bucknell, he was a 2012 All-Patriot League first-team selection and won the Bucknell Football Clarke Hinkle Award for most Outstanding Defensive Back or Linebacker that same season. In 2013, he received the Bucknell Football Tom Gadd Coaches' Award.
Before starting his career with the Bison, Steinbeck was a member of North Allegheny's 2010 WPIAL and PIAA championship team. Helping the Tigers to a 15-1 record, Steinbeck was named a 2010 Big School All-Star by WesternPAFootball.net.
In North Allegheny's 21-0 victory over LaSalle College in the PIAA championship game, Steinbeck rushed for a game-high 120 yards on 20 carries and scored a touchdown on a 22-yard scamper late in the second quarter. On defense, he intercepted a pass and returned it to the LaSalle 23-yard line to set up the game-clinching score.
(Video of 2010 PIAA championship game below, courtesy of Digital Horizons. Photo above courtesy of Bucknell University Athletics.)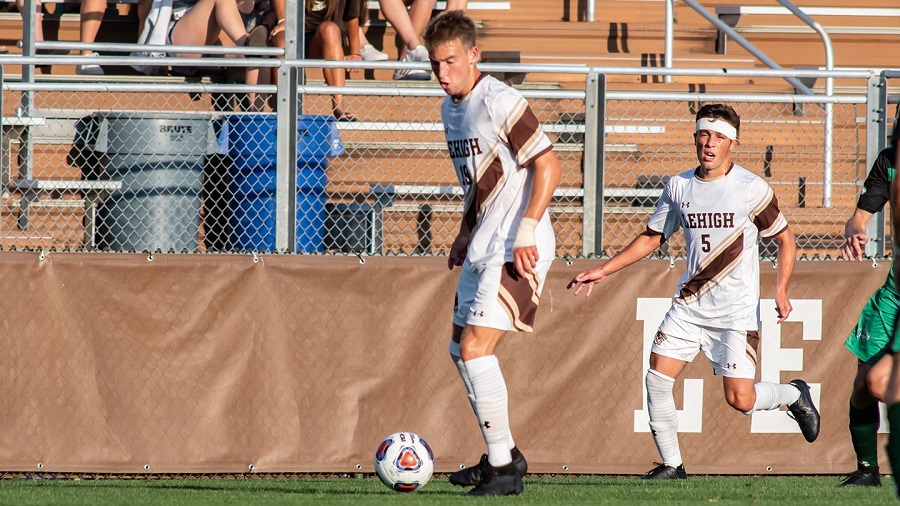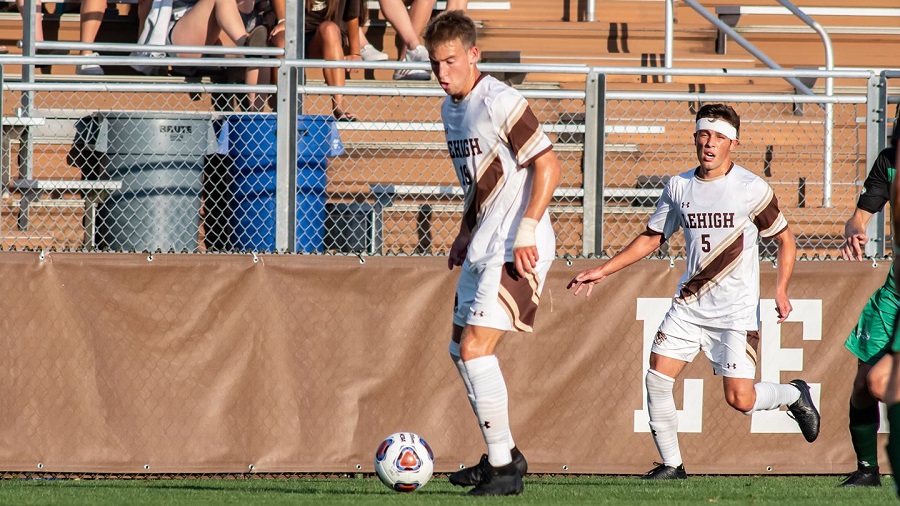 BETHLEHEM, Pa. — If you ask around these parts, many will already tell you that Lehigh men's soccer rising junior Josh Luchini is one of the most impressive players in the country. That much was true when he was named a Third Team All-American selection by the United Soccer Coaches following a dominant sophomore season as the team's main striker.
As if he needed any further validation, Luchini was recently featured on Top Drawer Soccer's list of the Top 10 forwards in the country for Division I soccer.
Despite the Patriot League announcing the cancellation of the fall 2020 season due to the coronavirus pandemic, following in the footsteps of the Ivy League and preceding decisions by many other conferences, the list was still formed with the top 10 strikers following impressive 2019 campaigns.
Luchini had a fantastic second season, highlighted by his Patriot League-leading 11 goals, adding two assists to his total and was subsequently named Offensive Player of the Year and First Team All-League for the first time.
Through two seasons as a member of the Brown and White, the Wexford, Pa. native has scored 17 goals and tallied six assists for 40 points in 40 appearances. He has paced the Patriot League in game-winning goals in each of the last two years, totaling nine.
Although the Mountain Hawks will have to wait to defend their Patriot League title for at least another semester, Luchini remains a favorite to repeat as the league's best offensive player once teams return to training and competition at a later date.
(Press release and photo courtesy of Lehigh University.)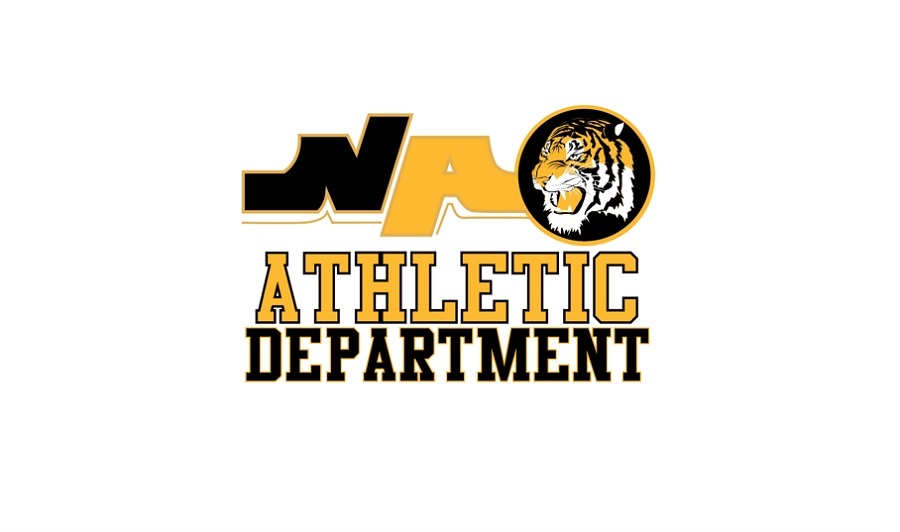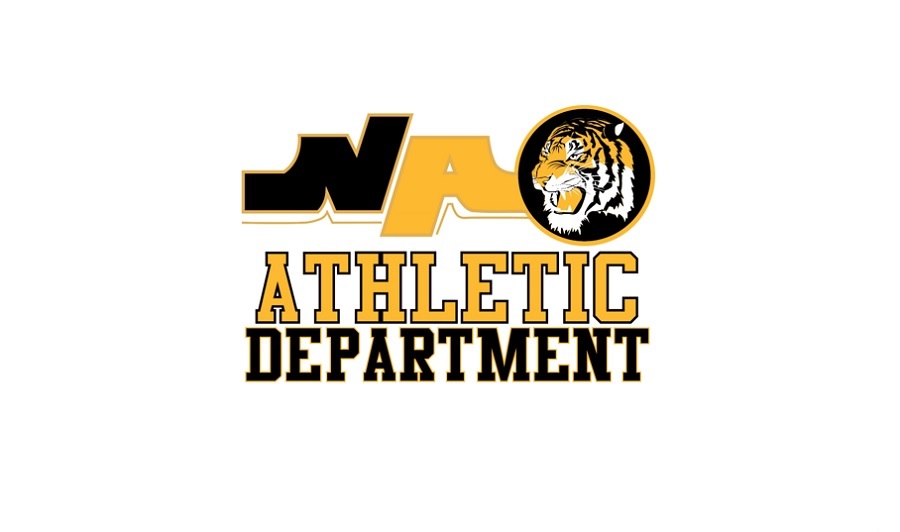 Two former North Allegheny scholar athletes have received undergraduate scholarships worth $10,000 from the II-VI Foundation. University of Pittsburgh junior Anna Barton, a former girls' lacrosse and soccer player at North Allegheny, was awarded a second $10,000 scholarship. Barton is a mechanical engineering major at Pitt.
Ohio State University sophomore Libby Woods, a former NA cross country athlete, was also awarded a $10,000 scholarship. She is an Industrial Engineering major at OSU. Both Barton and Woods had internships at Optotherm, Inc., in Franklin Park.
For the past 12 years, North Allegheny High School graduates have received $10,000 a year in undergraduate scholarships from the II-VI Foundation. The II-VI Foundation has given over $450,000 to NA graduates. The II-VI Foundation mission is to encourage and enable students to pursue a career in engineering, science and mathematics while maintaining a standard of excellence in that pursuit. For more information on the II-VI Foundation, visit their website by clicking here.